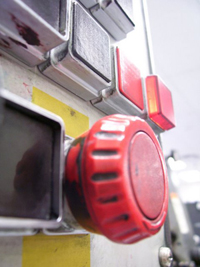 We utilize the most current technology in our industry. Our state-of-the-art equipment allows us to provide our clients with high-quality products on time and on budget
We realize that most people could care less about what model of press or copy machine we use, so long as they receive what they ordered. Still, we can't help being proud of our toys. Once you see how great they make you look, we hope you'll be proud of them, too.
Design & Prepress
Fuji Luxel V-6 Computer-to-Plate System
Digital Printing
Ricoh Pro C9100

Exceptional image at up to 1200 x 4800 dpi resolution
Maximum sheet size is 13" x 19"
Maximum banner size is 27.5" x 13"
Primary products are postcards, brochures, sell sheets, booklets and business cards.
Offline folding, UV coating and laminating are available.
Offset Printing
Web Offset Presses (9)

24" Harris Press, 3 color
22" Sanden Press, 8 color UV
22" Harris Press, 6 color
22" Harris Press, 4 color (2)
22" Harris Press, 3 color (2)
17" Harris Press, 3 color
14" Harris Press, 6 color
14" Harris Press, 4 color

Collators (4)

We have four 6-station collators that can Crimp or apply Cold or Interrupt Glue, Cross-Web Glue, and assemble Unit Sets.

All collators fold at 7", 7-1/3", 8", 8-1/2", 11", 12", 14", 16" and 17"
Finishing
Baum Folder

Does C-Fold, Z-Fold and Right Angle Folds

Bell and Howell

The Bell and Howell inserter allows for quick turnarounds. It is an 8 pocket inserter, for #10 envelopes.

Label Affixer

High speed Labelaire with dual affixing heads for Label & Clean Release Card affixing.

Kirk Rudy Tabber

The Kirk Rudy Tabber makes mail piece tabbing faster and easier than ever. It puts tabs on folded material to comply with the latest postal regulations.

Duplo Saddle Stitcher

Makes saddle stitched booklets and stapled copies, with tabbing if needed.

Heidelberg KSB A Diecutter

Heidelberg equipment has always been considered the cream of the crop and their professional-grade cutters are no exception. This is a sturdy 18"x23" die cutter.

Genicom Printers (10)

Our Genicom dot matrix printers are designed to variably image continuous forms, both single and multiple part. Common applications are pharmaceutical forms, price lists, drug testing forms and jury notifications.

Shrink Wrapping System

We have shrink wrapping equipment to wrap & protect your printing & copying projects.