Amanda Bloome, Customer Service Rep.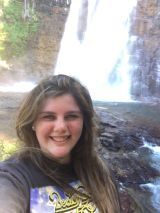 Amanda is our newest member of the Data Papers Team. Joining in the Fall of 2022, she has developed print knowledge, and is continuously learning new things every day.  She has many years of customer service experience under her belt and specializes in Digital Printing.
Amanda attended the University of New Haven in Connecticut right out of high school, and graduated in 2017 with a Bachelor's in Criminal Justice. Originally from the Bucks County area, Amanda and her husband bought a house and made the move to the area in 2021. Amanda has two cats, and a German Shepard she and her husband rescued in October of 2022 shortly before their wedding. In her free time, Amanda loves spending time with family and friends, going camping, hiking, going to the gun range, traveling, doing craft shows with her mom and grandma, wine tasting, and watching crime investigation tv shows.